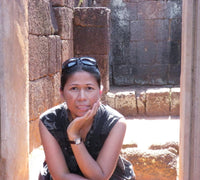 What makes Tiny Elephant a give back brand?
In everything that we touch as a brand, we question our ability,  "How can we make a tangible difference in the lives of artisans and others?"
Since Tiny Elephant's inception in 2016 we have provided consistent and diversified work to artisans in villages in Northern Thailand. We make sure all women are paid fair wages to work with our brand.  They work in the safest and healthiest places, their own homes.  We embrace women business owners who are ready to lead and uphold positive cultural values throughout their daily lives.
We support both of our local communities here in Canon City, Colorado and in Northern Thailand by giving back 20% of our sales as school supplies to help support village schools, and ethical nonprofits supporting women and children with services they may need.
Read Our Story